ABOUT DR. W. EDWARDS DEMING
Viewing the world through a different lens.
Born on October 14, 1900, Dr. W. Edwards Deming was an eminent scholar and teacher in American academia for more than half a century. He published hundreds of original papers, articles and books covering a wide range of interrelated subjects—from statistical variance, to systems and systems thinking, to human psychology. He was a consultant to business leaders, major corporations, and governments around the world. His efforts led to the transformation of management that has profoundly impacted manufacturing and service organizations around the world.

Considered by many to be the master of continual improvement of quality.
Dr. Deming is best known for his pioneering work in Japan. Beginning in the summer of 1950, he taught top managers and engineers the methods for improving how they worked and learned together. His focus was both internally, between departments, and externally, with their suppliers and customers. As a trusted consultant, Deming significantly contributed to the dramatic turnaround of post-war Japanese industry, and their rise to a world economic power. Dr. Deming's role as the architect of Japan's post-World War II industrial transformation is regarded by many Western business schools and economists as one of the most significant achievements of the 20th century (LA Times, 10/25/99.) He is often called the "father of the third wave of the industrial revolution."
In June 1980, the acclaimed documentary "If Japan Can, Why Can't We" reintroduced Dr. Deming to America. He quickly became the voice of quality and sparked the quality revolution. Playing a major role in the resurgence of the American automobile industry in the late 1980's, Dr. Deming consulted with corporations such as Ford, Toyota, Xerox, Ricoh, Sony and Proctor & Gamble, whose businesses were revitalized after adopting his management methods.
Dr. Deming continued to author and lecture well into his 90's. His final book, The New Economics, was published after his passing in 1993 at the age of 93. It was the culmination of his life's work, detailing The Deming System of Profound Knowledge®.
Deming was a visionary, whose belief in continual improvement led to a set of transformational theories and teachings that changed the way we think about quality, management, and leadership. He believed in a world where there is joy in learning and joy in work - where "everyone will win." Throughout his career, he remained devoted to family, supportive of colleagues and friends, and true to his belief in a better world.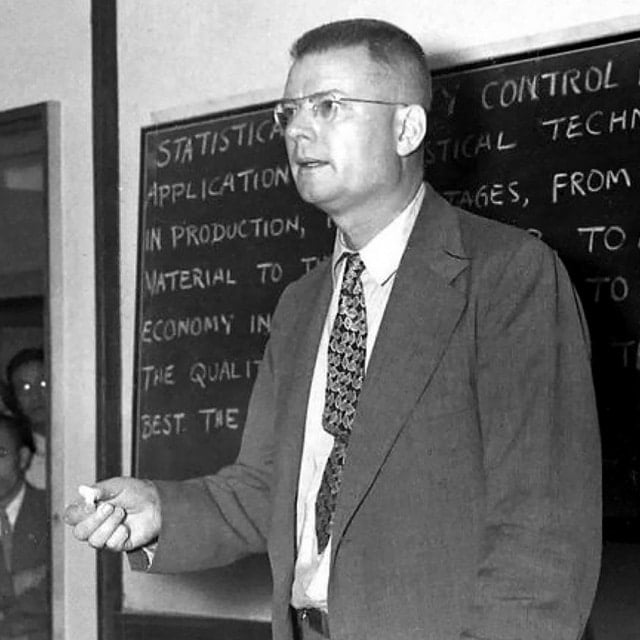 Want to know more about Dr. Deming?
DemingNEXT is the perfect way to do just that.
Our innovative online learning experience brings together award-winning technology and the most comprehensive deming educational content. DemingNEXT also has a treasure trove of video archives including Dr. Deming teaching his classic seminars, conducting the Red Bead Experiment, and interviews with him discussing various aspects of his System of Profound Knowledge.