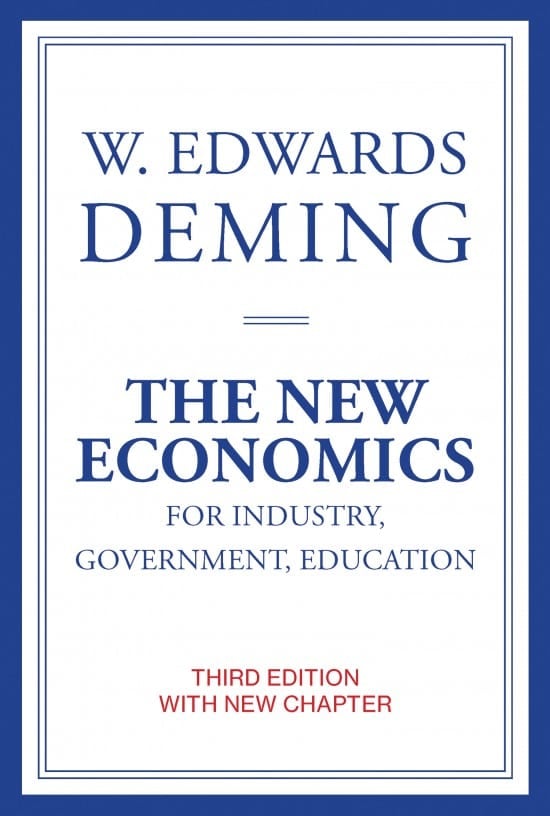 The New Economics for Industry, Government, Education
Overview
The most recent edition of a book that details the system of transformation underlying the 14 Points for Management presented in Deming's Out of the Crisis.
It would be better if everyone would work together as a system, with the aim for everybody to win. What we need is cooperation and transformation to a new style of management."
– from The New Economics for Industry, Government, Education
In this book, W. Edwards Deming details the system of transformation that underlies the 14 Points for Management presented in Out of the Crisis. The Deming System of Profound Knowledge, as it is called, consists of four parts: appreciation for a system, knowledge about variation, theory of knowledge, and psychology. Describing the prevailing management style as a prison, Deming shows applying the System of Profound Knowledge increases productivity, quality, and people's joy in work and joy in learning. Another outcome is short-term and long-term success in the market. Indicative of Deming's philosophy is his advice to abolish performance reviews on the job, to look deeper than spreadsheets for opportunities, and even to rethink how we teach and manage our schools. Moreover, Deming's method enables organizations to make accurate predictions, which is a valuable tool in today's uncertain economic climate.
This third edition features a new chapter (written by business consultant and Deming expert Kelly L. Allan) that explains the relevance of Deming's management method, case studies from organizations that have adopted Deming's System of Profound Knowledge, and guidance on how organizations can effectively "do Deming."
Paperback, 6 x 9, 240 pages
Out of The Crisis
Overview
Deming's classic work on management, based on his famous 14 Points for Management.
"Long-term commitment to new learning and new philosophy is required of any management that seeks transformation. The timid and the fainthearted, and the people that expect quick results, are doomed to disappointment."
– from Out of the Crisis
In his classic Out of the Crisis, W. Edwards Deming describes the foundations for a completely new and transformational way to lead and manage people, processes, and resources. Translated into twelve languages and continuously in print since its original publication, it has proved highly influential. Research shows that Deming's approach has high levels of success and sustainability. Readers today will find Deming's insights relevant, significant, and effective in business thinking and practice. This edition includes a foreword by Deming's grandson, Kevin Edwards Cahill, and Kelly Allan, business consultant and Deming expert.
According to Deming, American companies require nothing less than a transformation of management style and of governmental relations with industry. In Out of the Crisis, originally published in 1982, Deming offers a theory of management based on his famous 14 Points for Management. Management's failure to plan for the future, he claims, brings about loss of market, which brings about loss of jobs. Management must be judged not only by the quarterly dividend, but by innovative plans to stay in business, protect investment, ensure future dividends, and provide more jobs through improved product and service. In simple, direct language, Deming explains the principles of management transformation and how to apply them.
Paperback, 6 x 9, 448 pages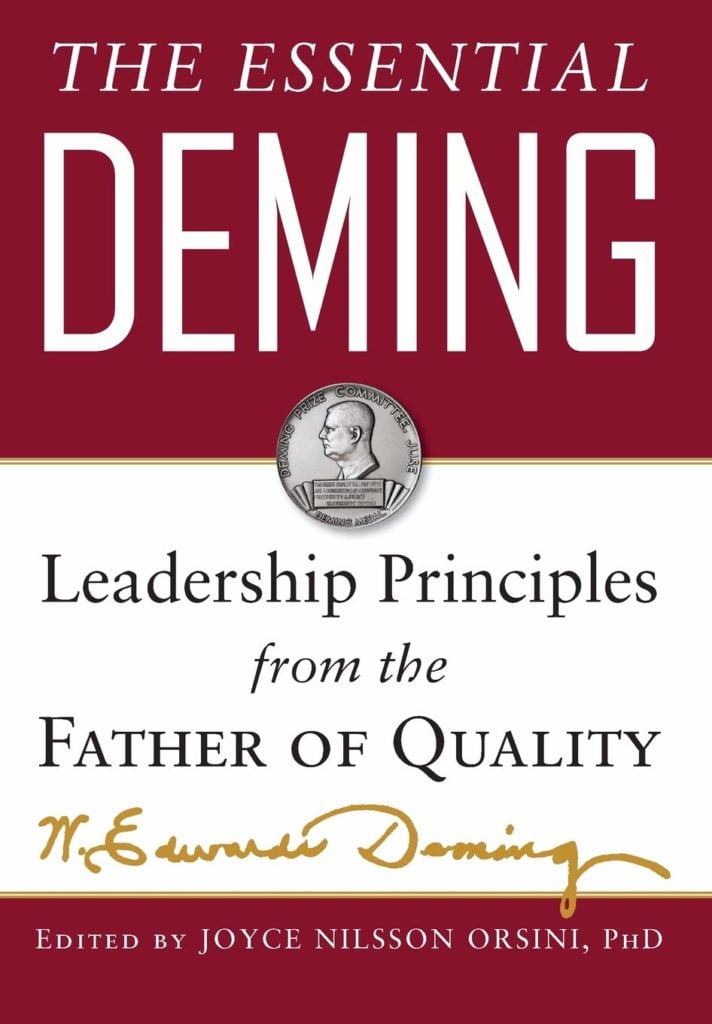 The Essential Deming
Overview
"Hard work will not ensure quality. Best efforts will not ensure quality, and neither will gadgets, computers or investment in machinery. A necessary ingredient for improvement of quality is the application of profound knowledge. There is no substitute for knowledge. Knowledge we have in abundance. We must learn to use it"
In The Essential Deming, Fordham University professor and Deming expert Dr. Joyce Orsini draws on a wealth of previously unavailable material to present the legendary thinker's most important management principles in one indispensable volume. The book is filled with articles, papers, lectures, and notes touching on a wide range of topics, but which focus on Deming's overriding message: quality and operations are all about systems, not individual performance; the system has to be designed so that the worker can perform well. The Essential Deming necessarily includes some of Deming's ideas that came to be included in Out of the Crisis and The New Economics, but not all. This book is written for those people who wish to see more of what Deming had to say about management in this world we live in, beyond these two earlier books.
Hardcover, 6.10 (w) x 9.10 (h) x 1.30 (d), 352 pp.
"To move from the wilderness of news into the paths of history, we must distinguish true turning points from mistaken ones. W. Edwards Deming has seen the future and it works. He is a turning point of business history made flesh."– U.S. News & World Report
"I engaged Dr. Deming to assist Ford in planning, developing, and implementing the plans to accomplish major improvement in the way people worked together and in the quality of our products… Ford achieved major success in this effort, and I consider Ed Deming to have been a key element in our progress." – Donald E. Petersen, former Chairman of the Board and Chief Executive Officer, Ford Motor Company
"Toyota Motor Corporation was awarded a Deming Prize in 1965. This laid the foundations for the present growth of our company. I do believe the ideas and theories of Dr. Deming emphasizing the importance of quality control are very useful for people of all ages." – Tatsuro Toyoda, Senior Advisor, Toyota Motor Corporation
The Deming Library Collection
At the core of The Deming Library is The Complete Deming Collection - a 32-volume set of programs, which were produced by the distinguished producer, reporter, and author Clare Crawford-Mason in collaboration with Dr. Deming.
These videos are available in the new DemingNEXT online learning experience. Click here for details.
The Deming Institute Collection
The Essential Deming provides a selection of key foundational practices and principles developed by Dr. Deming, many of which are critically important to The Deming System Of Profound Knowledge® - the culmination of his life-long work. Produced by the MIT Center For Advanced Educational Studies in 1981 and 1984.
These videos are available in the new DemingNEXT online learning experience. Click here for details.