By John Hunter, author of the Curious Cat Management Improvement Blog.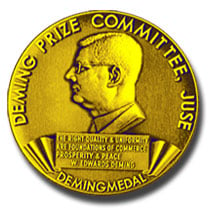 The Union of Japanese Scientists and Engineers (JUSE) has announced the 2013 Deming Prize winners.
The companies awarded the Deming Prize this year are:
It may not seem surprising that more than half the winners are based in Japan, but this is actually a departure the results seen in recent years. Distribution of winning organizations since 2000 (including prizes for 2013)
India – 20
Thailand – 11
Japan – 11
China – 2
USA – 1
Singapore – 1
Taiwan – 1
2013 Deming Grand Prizes:
3 years after a company has received the Deming Prize they may apply to the top prize. That prize has previously been named the Japan Quality Medal but was renamed, in 2012, to the Deming Grand Prize.
2013 Deming Prize for Individuals
Dr. Hideo Iwasaki, Professor Emeritus, Kinki University (Japan)
Related: 2012 Deming Prize Winners – Deming Prizes for 2011 go to Companies Based in India, Taiwan and Thailand – 2004 Deming Prize Awardees