Guest post by Victoria Morgan
The quality of maternity services in England is in the spotlight. National audits have shown that whilst outcomes have improved significantly over the last decade there is marked variation in outcomes that cannot be explained by clinical and social risk factors (Mothers and Babies: Reducing Risk through Audits and Confidential Enquiries across the UK (MBRRACE-UK)). A government commissioned review of maternity care described the need for a culture of learning and continuous improvement (National Maternity Review 2016).
Deming's bedrock philosophy of management may provide some answers. With his Fourteen Points, Deming conceived these principles as he recognised the failure of statistical methods to endure and saw the need for management principles which were consistent with statistical methods. He continued to develop these principles over three decades. (Walton 1994)
Here are the top three of Deming's Fourteen Points that I believe will help improve quality in NHS maternity services:
5: Improve constantly & forever the system of production and service
8: Drive out fear.
9: Break down barriers between staff areas.
Taking each Point in turn, I'll explore why each is needed and what practical steps NHS clinicians and support staff can take to implement these principles, using examples from my experience as a former NHS manager.
Point 5: Improve constantly & forever the system of production and service
Improvement is not a one-off effort but a continual search for ways to reduce waste and improve quality, as Deming would say. In England, it's a legal requirement that the NHS continuously improves the quality of services provided, under the Health & Social Care Act (2012).
One effective tool that can be used to support continuous quality improvement is the plan-do-study-act (PDSA) cycle. Used as part of a suite of quality improvement methods, informed by an overall methodology (such as the model of improvement), the PDSA cycle encourages an iterative approach to change, which is ideally suited to difficult, complex problems (Taylor et al 2013).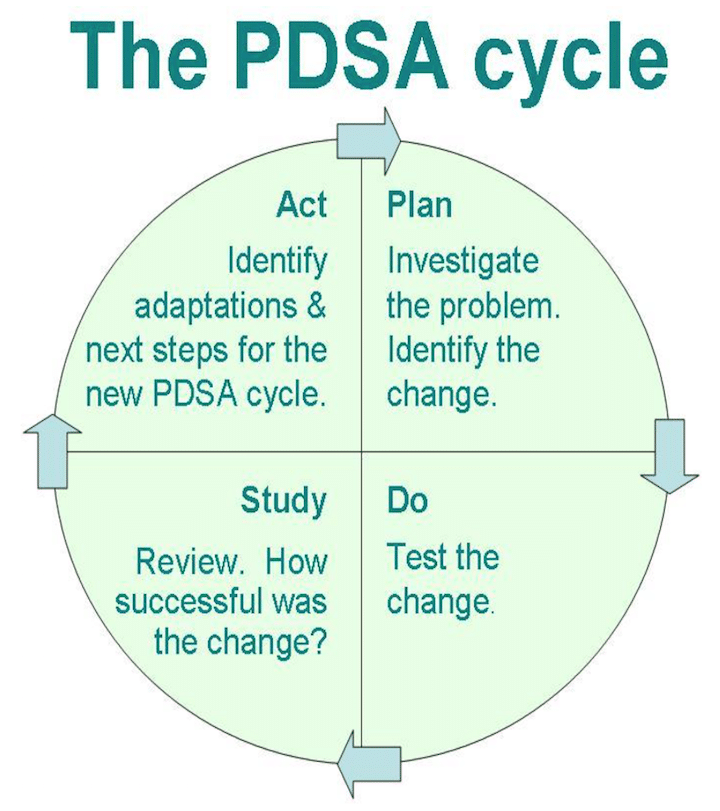 It can be difficult to take time out of a busy day to plan and reflect, but the results are worth it. If you don't feel confident to use the methodology immediately for clinical improvement work, why not try it out on a personal project (e.g., getting fitter or starting a new hobby) or get help from a facilitator?
Point 8: Drive out fear
Deming found that many employees are afraid to ask questions, even when they do not understand what the job is or what is right or wrong. In maternity services, working relationships between obstetricians and midwives can be difficult; although both professions say they would like better relationships with other groups (National Maternity Review 2016).
Perhaps a willingness to ask and respond positively to questions might help?

For example, my team and I were responsible for reviewing serious clinical incident trends for a hospital. Every three months we would sit down with other experts (a nurse, a doctor and a manager), ask questions about the incidents and agree actions to take (often further questions to ask the hospital). Hospital staff were open and responded positively. When they were asked why not all emergency caesarean sections were happening in time (which was causing safety problems); hospital staff accepted the need for change and responded by opening an extra operating theatre and increasing consultant hours, making the service safer.
What questions could you ask to help you understand your job better? When asked a question do you respond positively, or are you defensive or irritated?
Point 9: Break down barriers between staff areas.
Often departments or professional groups compete with each other or have conflicting goals. Worse, one department's goals may cause problems for another. Deming encourages departments to work together as teams so they can solve and foresee problems.
In clinical services, the process of sharing data, discussing it with peers on a regular basis, agreeing actions and providing quality improvement training can result in significant quality improvement. Cardiac units in Boston, USA, saw a 24% improvement in six hospitals' mortality rates for coronary artery bypass graft surgery using this approach (Peck 2005). Maybe it is time to extend the application into maternity services?
Multidisciplinary teams from each maternity unit could come together to review outcomes data for their maternity units, learn from one another, receive training in quality improvement techniques and agree actions to improve quality.
In a clinical setting, service users – parents, in the case of maternity services – are key members of the multidisciplinary team alongside healthcare professionals and support staff. The NHS maternity network in London has collected a number of case studies showing how involving parents has improved quality – including better communication with women, enhanced staff experience and increased smoking cessation referrals (NHS London Clinical Networks 2015).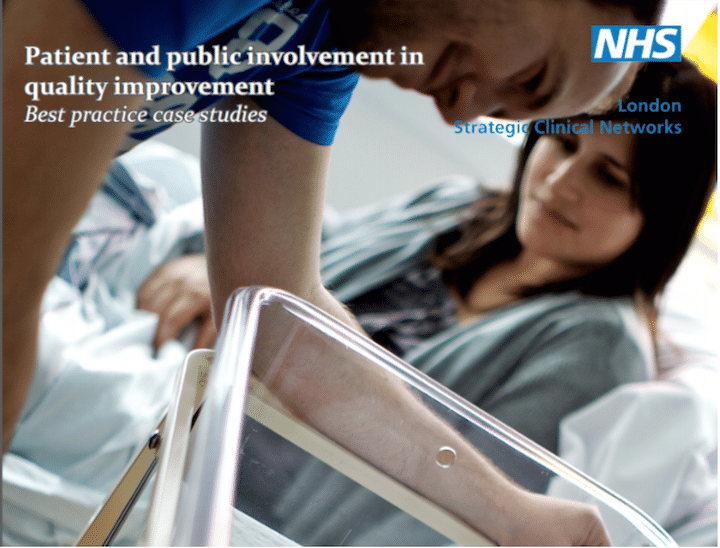 What do these three Points mean to you?
Why not tell me what these three Points mean to you? Do you have an example of how you have put one of the Points into practice, or has this blog prompted some thoughts and you'd like to discuss more? If so, please get in touch – either leave a reply below or email me victoria@everybirthasafebirth.org.
References
Health and Social Care Act (2012) Section 2.
NHS London Clinical Networks (2015) Involving service users for quality improvements in maternity. London, NHS England.
National Maternity Review (2016) Better Births, Improving outcomes of maternity services in England, A Five Year Forward View for maternity care. London: NHS England.
Peck, E (2005) Organisational development in healthcare: approaches, innovations, achievements. Abingdon: Radcliffe Publishing
Taylor M J, McNicholas C, Nicolay C, et al. (2013), Systematic review of the application of the plan–do–study–act method to improve quality in healthcare, BMJ Quality Safety, Vol. 23, No. 4, pp. 290-298.
Walton, M. (1994) The Deming Management Method. Chalford: Management Books 2000 Ltd.
Biography
Victoria Morgan helps maternity services improve quality and is the founder of Every Birth a Safe Birth. Victoria also writes and tweets (@victoriaRM6) about maternity clinical quality improvement and is a member of the Outcomes Working Group for NHS England's London Maternity Clinical Network.
Her passion for improving maternity services began in the NHS where she held roles in governance and risk management for over 11 years, culminating in her appointment as Head of Quality & Safety across four then seven London boroughs. Victoria also designed and executed major public and staff engagement events. She holds a Masters in Business Administration and a BSc in Human Physiology.
Related: Adaptation of the 14 Points to Medical Service – Application of Deming's System of Profound Knowledge in Healthcare – Healthcare, Paradigm Shifts and the Influence of W.E. Deming