Guest post by John Hunter, author of Management Matters: Building Enterprise Capability.
Statement on the purpose of a corporation from the Business Roundtable, August 2019:
…we share a fundamental commitment to all of our stakeholders…

Delivering value to our customers…
Investing in our employees…
Dealing fairly and ethically with our suppliers…
Supporting the communities in which we work…
Generating long-term value for shareholders…

Each of our stakeholders is essential. We commit to deliver value to all of them, for the future success of our companies, our communities and our country.
W. Edwards Deming described the purpose of an organization in The New Economics, 1993, on page 51, as:
The aim proposed here for any organization is for everybody to gain – stockholders, employees, suppliers, customers, community, the environment – over the long term.
I am glad to see the Business Roundtable agreeing with Dr. Deming, a few decades later. Turning those ideas into effective actions that lead to successful organizations is more difficult than saying you value "investing in employees," etc. I suggest that those looking to put these ideas into action learn about how Deming's ideas create a management system that does this well.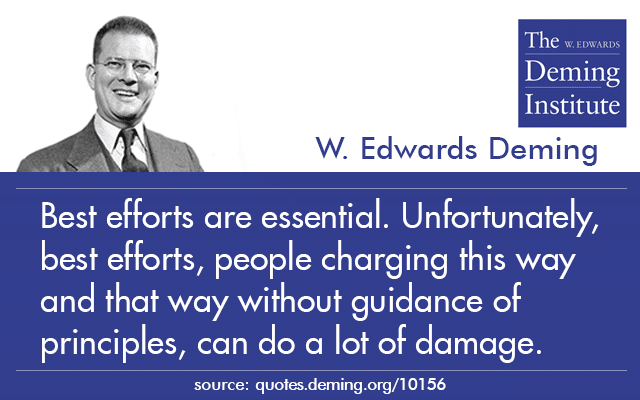 Creating an organization that actually works for all stakeholders and continually seeks to improve results for all stakeholders is very challenging. There isn't a simple recipe to follow, but there are principles, concepts, tactics, and tools that make success more likely.
We hope this blog helps you create organizations that aim to continually improve the benefits to all stakeholders. Please follow the links provided in this post for more thoughts on how to do so successfully. And let us know if you have any questions or suggestions for those on a journey to serve all stakeholders.
Related: The CEOs of nearly 200 companies just said shareholder value is no longer their main objective – The Purpose of an Organization – Effort Without the Right Knowledge and Strategy is Often Wasted – People Copy Examples and Wonder Why They Don't Succeed – Using Deming's Ideas When Your Organization Doesn't