By John Hunter, founder of CuriousCat.com.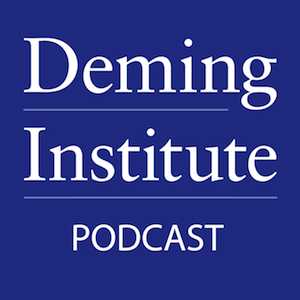 The W. Edward Deming Institute is pleased to announce the Deming Podcast. We created a new Twitter account specifically for the podcasts: @DemingPodcast (our main Twitter account is @DemingInstitute).
In Deming podcast episode number one (download) moderator Tripp Babbitt interviews Kevin Cahill, the President of The W. Edwards Deming Institute and the grandson or Dr. Deming. Kevin talks about growing up with Dr. Deming and Kevin's current work with The W. Edwards Deming Institute.
Kevin talked about how the NBC report, If Japan Can Why Can't We, which aired in 1980, gave him a new view of his grandfather. The show introduced Dr. Deming name and ideas to many leaders in business in the USA.
Kevin was living at Dr. Deming's house at the time (while getting a college degree) and he was a first hand witness to the amazing impact that program. Kevin frequently overheard phone calls from CEO's of major companies (Ford, GM, etc.) from around the USA talking with Dr. Deming. Dr. Deming's office was in the basement of his house.
Subscribe to the Deming podcasts via rss or iTunes.
Related: Business 901 Podcast with Joyce Orsini and Kevin Cahill – First post on the W. Edwards Deming Institute Blog – Deming Seminar in Hong Kong, 12 to 14 June 2014