The W. Edwards Deming Institute has made The Deming Library and other videos with Dr. W. Edwards Deming available on demand via the internet. We offer 7 programs to chose from.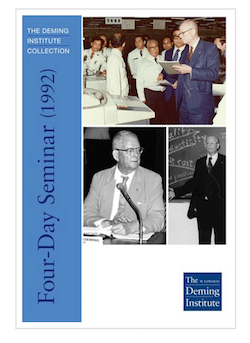 Dr. Deming's Four-Day Seminar (1992)
This option provides access to 12 hours of Dr. Deming's lectures and demonstrations from Dr. Deming teaching his famous 4 day seminar. The video is from Dr. Deming's presentation to an audience of more than 500 managers at General Motors in 1992.
The Four-Day Seminar thoroughly covers The Deming System of Profound Knowledge™; we offer a comprehensive study guide for individual and group learning.
Topics covered include: Optimization of a System, Leadership and Management of People, PDSA and Responsibility, Some Lessons in Variation and People Learn in Different Ways.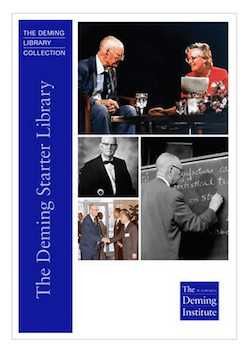 The Deming Starter Library (2 hours 53 minutes) is comprised of several selections from The Complete Deming Library. We offer a study guide for the collection.
The Prophet of Quality reviews the life of Dr. Deming, his education, professional career, and the origins of his overarching principle of continuous improvement.
The 14 Points for Management covers the essential actions that Dr. Deming believed managers must take to transform and build a successful organization.
Understanding Profound Knowledge reviews Dr. Deming's system of thinking on which all practices must be based to achieve continual improvement of the organization, its people, and products or services.
The Red Bead Experiment features the famous exercise designed by Dr. Deming that demonstrates how an individual's performance at work is directly tied to and limited by the nature of the system they are working within.
Lessons of the Red Bead Experiment – The lessons learned in the experiment include failing because management did not understand or improve the system, and realizing that exhortations will not improve productivity.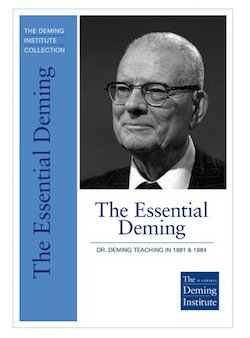 The Essential Deming (3 hours 20 minutes) provides a selection of key foundational practices and principles developed by Dr. Deming, many of which are critically important to The Deming System Of Profound Knowledge™ – the culmination of his life-long work.
Produced by the MIT Center For Advanced Educational Studies in 1981 and 1984, it is available in both Spanish and English versions. The Essential Deming is also historically significant as it is the first time Dr. Deming was filmed giving a seminar. It shows Dr. Deming presenting the content of his landmark book, Out of The Crisis.
Topics covered include: Chain Reaction of Quality, The System: Common and Special Causes of Trouble, The 14 Points for Management, Uses of Control Charts, New Principles of Training and Supervision, Diseases and Obstacles, Quality and Productivity in Service Organizations, and Quality and the Consumer.
Also available:
We hope these videos will provide another resource for those interested in learning about applying Dr. Deming's management system in their organization.