By John Hunter, author of the Curious Cat Management Improvement Blog (since 2004).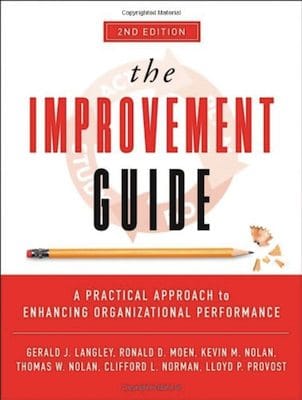 The Improvement Guide is a fantastic book on using the PDSA cycle well. The 2nd edition was published in 2009. The power of applying the PDSA cycle properly is huge. It leads to successful improvements which is important. Using the PDSA cycle also reinforces many aspects of applying Dr. Deming's principles.
Together with Leader's Handbook the Improvement Guide are 2 books I think every manager needs on hand to use as a reference as they apply Dr. Deming's management ideas. The biggest drawback with both books is that they are only available in printed form – no electronic formats are available which is really a shame.
The Improvement Guide provides insight into how to effectively use the PDSA cycle (also known as the Deming Cycle and the Shewhart Cycle) to succeed. The authors think systemically and understand variation and the importance of creating effective improvement processes. The way I see it Dr. Deming's books focus on the principles. The Leader's Handbook and the Improvement Guide are resources to help you operationalize those principles in your own setting. Don Wheeler's books also are a great resource for the details on using control charts and Statistical Process Control (SPC).
One of the important reasons that the Improvement Guide and the Leader's Handbook are so useful is they provide practical hands on advice while integrating those details with an understanding of the complete management system.
Related: Clearing Up Myths About the Deming Cycle by Ron Moen, Cliff Norman – Tom Nolan at the Deming Institute Conference on PDSA (and more) – The Essential Deming – New Book on Dr. Deming's Work – Inspection is too late. The quality, good or bad, is already in the product. – Keys to the Effective Use of the PDSA Improvement Cycle