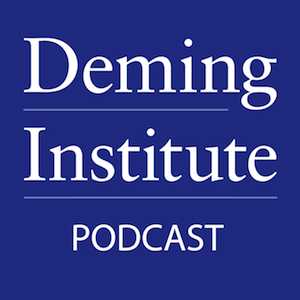 We have another Deming Institute podcast with David Langford, to share with you – Where is all the Joy? (download podcast).
David explains that when looking to improve the place to begin is to examine your circle of influence and determine where you have a chance to help move toward better practices. A clip from David's presentation at a previous Deming Institute conference explores this idea: Change has to Start from the Top.
People are very shocked coming out of the school system when they go into pretty innovative companies and then they are expected to start thinking and creating and working together with other people to a very high level. And students are often shocked even coming out of major universities, they don't know what that is.

I talked to a computer science professor once who said he would give very open ended projects to students and the very best students would just panic. They just continually come back with "how do you want it" "do you want it like this "do you want it like that" "or do you…" They were just very boss oriented. And if you fell into that and told them exactly what to do then they would get the straight A's, they would do exactly what they were supposed to do. But you wouldn't get any innovative ideas or new breakthroughs in thinking coming from that.

So we have to think, long and hard about what is the aim of the system.
Do we want to educate students to be able to think creatively and work together to find and implement solutions? And to evaluate how things are working and if necessary go learn more about certain aspects and then apply that learning to an attempt to improve? It sure seems like a good idea to me.
But, as David says, our education system largely focuses on individual test taking and paper writing. There are some efforts that focus on project based learning with a great deal of students learning to work together. But that is a very limited portion of the education system today.
Working to create a system that supports and embraces joy in learning in students is what David recommends. There is no recipe for how that is done. There are many ideas that can help you decide how to create a system that works to restore and build student's innate joy in learning (and we have many previous posts on such ideas). But Deming doesn't provide a recipe, he provides ideas that are useful in helping you think about how to improve your organization.
Related: Inquiring Minds, Improving Elementary Science by Linda Lippe – Transforming the Organization, Deming Podcast with David Langford – Deming Inspired Innovation in Education
For more information about David's current work, with Ingenium Schools, please visit ingeniumfoundation.org